Braces: An Overview
Braces are sought out for many reasons. Some people want that perfect smile. Some have a misalignment that can be corrected. Some suffer from overbites, underbites, or crooked bites. Some have gaps and/or too much spacing between their teeth. Whatever the case may be, orthodontic braces can be life-changing: from improving self-esteem and dental hygiene to mitigating the uncomfortable side effects of oral development issues.
At Koch Orthodontics, we are well aware that most people are not fortunate enough to be born with perfectly symmetrical teeth. That is why Dr. Koch, Dr. Gass, Dr. Simon, and our entire orthodontic team are here for you. With offices in Lawrenceville and Loganville, we are easily accessible and we regularly welcome patients from Gwinnett County, as well as surrounding areas like Monroe, Snellville, and Grayson. Our inviting, smiley team will greet you with warmth and take care of your orthodontic needs, navigating you through every step of your orthodontic treatment.
How Do Braces Work?
Braces are a well-proven treatment for correcting misaligned teeth and/or jaws. The technology for braces has progressed leaps and bounds over the past few decades. Today's braces are less visible, lighter, smaller in size, and can be impressively camouflaged.
Putting on braces is a simple procedure. First, a special orthodontic glue adhesively binds the brackets to your teeth. The adhesive is made of a composite resin. Its taste may be the slightest bit unpleasant, but it is not toxic, and our specialized tools allow for easy removal when the treatment concludes. Once the brackets are in place, wires thread them together. This allows gradual pressure to be applied by tightening with a special key. Adjustments are made every few months to balance the tension and correction to make the experience as effective and comfortable as possible.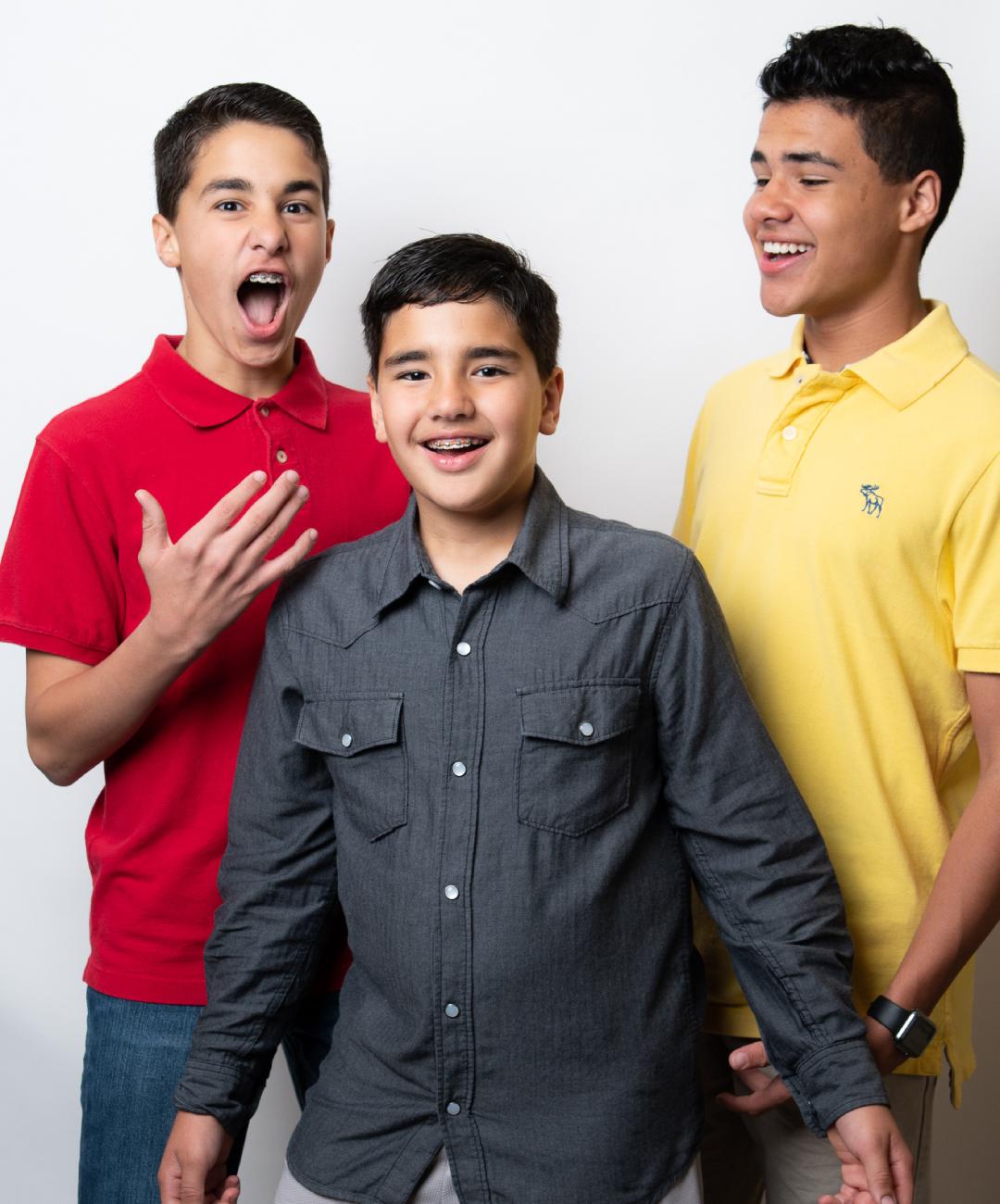 Experience The Benefits Of Braces
Braces can offer much more than simply repairing inconsistent spacings or asymmetrical bites. Along with your nicely aligned teeth, you may also notice a wide range of unseen benefits. In some cases, dental problems can cause jaw pain, migraines, and added pressure and pain to your upper body, neck, and shoulders. When we fix the structure and symmetry of your teeth, these discomforts often disappear. Whether it is a protruding tooth causing oral trauma, an impacted tooth causing sleep apnea, or an underbite or overbite giving you chewing issues, braces can help you eat better, speak clearer, sleep sounder, and feel happier about your overall appearance.
Braces can sound like an intimidating orthodontic treatment to many. Perhaps you heard someone talking about the inconveniences of braces or an incident of food getting stuck. Such situations can arise, but they are rarer and often less consequential than you might think. For the most part, braces become as unnoticed as the clothes you wear. Nevertheless, we respect your concerns.
Self-Ligating Braces In Lawrenceville & Loganville
Our state-of-the-art orthodontic equipment aligns with our commitment to keeping up with the latest developments in the industry. A prime example of this is our embrace of self-ligation technology. Unlike old-fashioned metal braces, self-ligating braces do not require ties and bands. With lightweight "shape-memory" wires, self-ligating braces speed up the alignment and correction process–and often do so without requiring uncomfortable palatal expanders.
Servicing all of Gwinnett County since 2011, the welcoming team at Koch Orthodontics is ready to greet you with a warm smile. With offices in both Lawrenceville & Loganville, we regularly see patients from surrounding cities, including Monroe, Snellville, and Grayson. If you are interested in receiving orthodontic care from a team committed to offering the latest techniques and technologies, we are your solution.
How Self-Ligating Braces Differ From Traditional Braces
Traditional braces are different from self-ligating braces in many ways. Relying upon rubber bands, archwires, and brackets to realign teeth, they may trap food and plaque, build up friction, apply a less-than-ideal amount of pressure, and are visibly noticeable. Meanwhile, self-ligating braces enjoy the benefits of specially designed clips. Replacing rubber bands, these clips hold the archwires in place. This subtle shift offers many upsides. Self-ligating braces realign your teeth faster, mitigate the pressure placed on your jaw and teeth, and allow you to clean your teeth much more simply. Their brackets and wires are also much thinner and less visible than traditional braces. With clear options, self-ligating braces can be nearly invisible.
There are two specific types of brackets for self-ligating braces:
Traditional Metal – As the name suggests, these brackets are made from stainless steel and are what most people picture when braces come to mind. Due to their proven effectiveness in treating even the most complex cases, metal brackets continue to be the most popular option for braces. Thanks to advances in technology, self-ligating metal brackets are now more sleek and comfortable than ever.
Clear Ceramic – Offering the same great results as metal brackets, clear braces are made from a ceramic material that is designed to blend in with your natural smile. These braces are perfect for patients looking to maintain a more natural and discreet appearance during treatment.
Regardless of which type of bracket you choose, self-ligating braces are significantly more comfortable than traditional options. Without ligatures holding the brackets, you will not have to fear bands snapping or metal wires poking your gums or mouth. Furthermore, without the potential of elastic ties loosening between orthodontic visits, self-ligating braces apply constant, even pressure.
Why Self-Ligating Braces Are Truly Superior
The biggest contributor to plaque and tooth decay with traditional metal braces is the presence of elastic rubber bands that tie the brackets together. By getting rid of this latex material, you will be able to not only brush your teeth more efficiently but also deal with fewer problems when eating. Another reason our patients love self-ligating braces is their aesthetic appeal. With the cosmetic benefits of choosing virtually see-through brackets that are resistant to stains and discolorations, you will not need to put up with highly conspicuous metal wires.
With tieless brackets, self-ligating braces feature a cool slide mechanism that allows the archwires to slide comfortably and with ease. The ability to actively adjust the archwires helps decrease friction and tightness and expedites the treatment process. Self-ligating braces can shorten the total timespan of your treatment by up to 6 months. This is a significant difference. With fewer visits and adjustments required, you will save time and energy by not needing to frequently visit our offices to get your braces tightened. Your time spent in our office for adjustments will be shorter as well. With self-ligating braces, all we need to do is simply open and close the 'door' of your braces. As much as we love to see your smiling face, we would rather have you enjoying other activities of your life.